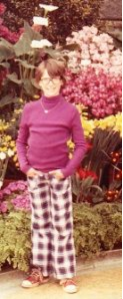 I've been saying for a while now that I don't like our current life and I want 1974 back. Of course, I was 9 years old then, with no responsibilities, and memories of a happy childhood. I wanted my 1974, not the real 1974.
For the past several years, it seemed like social expectations were too high and more superficial. If I wasn't posting gorgeous pictures of my power vacations on a steady basis, I wasn't keeping up. Yet, I kept going on Facebook and Instagram. That's how I kept in touch with people and found out what my kids were doing. I was guilty of not calling friends because it just felt like so much work. I was part of the problem.
Big Changes, Small Changes
Then the virus hit and we all froze in place for months waiting for Simon Says instructions. After eating, drinking, and crying too much, I began to notice what was different. My habits had changed automatically. Instead of going on Facebook, I was calling my mom and my kids more often. My kids answered my calls most of the time instead of letting it go to voicemail so they had changed too. I returned to sitting on the porch sipping tea and listening to the birds. Just as my parents did in 1974, I spent the bulk of my days in the garden. In my 1974 childhood, I was busy building tree forts, dressing up the cats, and losing monopoly games to my older sister.
But that was just me and my habits. Had everyone else gone back in time too?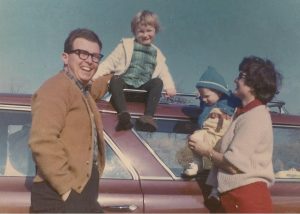 On one of my many trips up the highway bringing groceries to my mom, I saw the answer. I live in a lake region where people come for summer vacation. I had already seen more and more family cars with stuff wrapped in bungee cords and tarps tied to the roof. The pricey Thule racks were not as common.
Then I saw the precision-crafted roof box made out of wood from pallets. It was a DIY special made by someone with time on their hands who made an affordable, practical item that was also nice to look at. It brought me back to my childhood camping trips in our station wagon. Our gear was stored on the roof in a wooden box made by my dad. My mom, the art teacher, had painted vines and flowers all around the edges. I always wondered if our companions on the road thought it was as beautiful as I did.
The Good, the Bad, and the Ugly
When I did venture back online, I found people were much more playful. There were COVID parody videos like exercising at home while spraying with Lysol, a Disney-style musical montage of princesses sheltering in place, and a socially distanced massage using a paint roller with an extended handle. I joined a Facebook group called "Disapproving Corgis" with posts of dogs who expressed their opinions in hilarious ways. I subscribed to a YouTube channel named "Chunk the Groundhog" who mostly eats but also burps and watches helicopters fly overhead. In the blink of an eye, my penchant for silly became acceptable and my lack of vacations was now virtuous.
Not that everything was rosy in the 1970s. Even as a kid I was aware of political issues and protests. I understood more about what happened in my childhood when I looked back with a mature perspective and 20/20 hindsight. But, I'm happy to see that posturing has been replaced with the active passion and participation that seemed more prevalent in decades passed. I hate that so many of us are unemployed right now, but it has given us the opportunity to become involved and work on issues that matter.
Playing House
When I dusted off my sewing machine, I recalled the curtains my mom stitched. She used the same cloth to upholster our living room chairs. When did I stop making things and start buying them instead?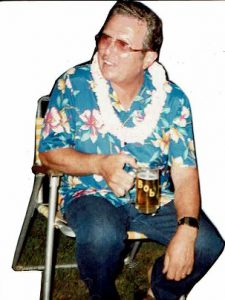 This fall, I'll pull out the quilt my aunt made from scraps of cloth given to her by my mom and grandmother. The log cabin pattern has remnants from shirts, dresses, and tea cozies from my childhood. It reminds me that mom used to sew ties for my dad and that's why we got him aftershave instead. In 1974, those were the classic gifts kids gave their fathers.
I made my first face mask from a Hawaiian print cloth, a remnant my mom saved from a shirt she made for my dad. They held luau parties for decades until my dad grew too old to enjoy them anymore.
I never thought I'd be grateful that my dad was gone, but he would have hated 2020. I think he could have handled the anxiety, the isolation, and the uncertainty. But, the endless stream of bad news would have chipped away at his eternal optimism. And his arthritis was too bad to allow him respite in the garden like I've enjoyed.
Back to Nature
Driving on the road is more familiar now. I didn't get my driver's license until 1981, but I live close enough to where I grew up that I can draw comparisons across many decades.
Those close to me have heard me complain that I can't use my high beams anymore because there's too much traffic even if I'm out late. Recently, I drove home from a nearby city with a population of 100,000 people. I stayed late from a patio dinner with a friend I hadn't seen in 6 months. We had texted and talked in the interim. But my friend is also a storyteller. He needed a live audience and didn't disappoint. Three hours flew by before I got back in my car. I can still feel that grin when I realized my high beams were on while driving the highway, a pleasure previously preserved only for really rural back roads.
The Wild West nature of the roads was apparent as a car came out of nowhere and blew past me like I was standing still. I was already going 78 mph myself. It startled me and added pressure to my bladder which is why I was in such a hurry to get home. Using a public bathroom is a no-no now. In the 1970s they just didn't exist, at least not in this region which used to be much less populated.
Another childhood memory from those station wagon road trips were the stops on the side of the road. Mom and I would scamper off in the bushes with a Ziploc plastic bag filled with toilet paper. I've had to employ the same practice recently although there's a lot less nature where you can stop and pee with privacy. It's easier to just drive fast and go at home.
What's old is new again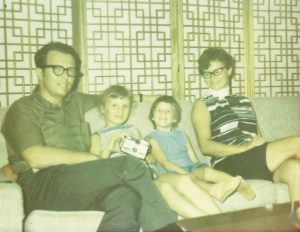 I'm grateful for the whim last year to buy a bread machine and a jar full of yeast. I remember my mom's French bread rising in a bowl next to the fireplace. It still seems like magic that flour, salt, and water creates such a heavenly carbohydrate. The glass jars of dried beans, rice, and pasta on my shelves mirror the ones in our "modern" Formica-laden kitchen renovated in 1971. The phrase "what's old is new again" bounces around in my head.
I'm so sorry we have to go through this pandemic, but I believe everything has a silver lining, even this. I have to, otherwise I fall into a nihilistic despair. This is a harsh way to learn a lesson, but who thought toilet paper would make it onto our collective gratitude list? I know I will never take a hug for granted and will be much quicker to give and receive them in the future.
I've become more like my mother in familiar, comforting ways. I've learned to dye my own hair and I'm excited to watch green beans grow. And my friendships have deepened. I feel the renewed authenticity of well wishes when I part from anyone in person. Those visits are so uncommon and precious now. The phrases "be well," "take care," and "I love you" all carry extra weight.
I wish that you find peace in these slower times and luxuriate in being bored. I know my kids rarely said they were bored. They had 24 hour TV with many channels. In 1974 you had to wait all week just to watch cartoons. Then again in my childhood, if I told my parents I was bored, they would pull out the chore list. Maybe 2020 isn't completely bad. If I'm bored now, I can just watch Netflix or call my mom. I'll have to add both of those to my gratitude list.