I thought I was just building a daily writing habit in July. What I got was access to whole new worlds both inside and outside of me. After just a few days, my morning musings began to center around one character. Daily pages strung together to create a story line about her. So I happily launched into a new novel, a new project.
Yet, to start something new meant turning away from something old. My plan to finally finish a tired partial novel just wasn't working. It felt more like I was giving it daily beatings instead of healing massage. With only a tinge of guilt, I took the hint and stuffed it back in the forgotten fiction file and opened up to the new world growing on the page.
All my thoughts revolved around it. Walks in the woods and time in the garden informed and inspired the life of my character. With each of my own thoughts and feelings, I reached for my notes app to describe what situation she was in when she felt the same way.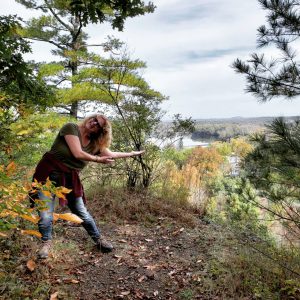 As July turned to August my attention wandered to a recently stalled nonfiction project. Somewhere in the grey folds of my brain, a connection had formed between my fictional character's survival adventures and the very real readers of my money management blog.
More than my brain got behind that connection. I found myself waking hours before normal, full of ideas, and working on the computer. I'd pause close to lunchtime and realise I never had breakfast. Anyone who knows me longer than a week would have worried as I never miss a meal or the multiple snacks sprinkled into each and every day.
But it was exciting! I hadn't felt this creative thrill in years, probably decades. The flow of ideas was powerful and more compelling than the guilty reminder that I'd committed to writing a new novel after dismissing my old novel. In a few weeks though, I came to a natural pause in that project. I needed to do more research before going further. So, I plotted outlines, bought a few books, and lined up websites to dive into.
Then, August turned to September. I read a few pages of the first research book and put it down. Then, I indulged in a day or two of reading just for fun. When the weather changed, I was led back into the garden by cooler days and abundant veggies. I cooked, I canned, I did anything but write for a whole week. Guilt started rapping on my brain a little harder with each day of leisure. I also began to wonder if I just couldn't commit to any project beyond the honeymoon stage.
I learned this year that I'm an intuitive writer which means I need to explore whims and wander into projects. My heart needs to be fully on board or else my writing is complete crap. But my heart, my Venus, lives in this body with a methodical Virgo nature. Virgo wants me to clean closets, tally the garden's output, and put all my ideas into organized files. Virgo and Venus battle like jealous sisters competing for my limited time and energy. They're forever forced into relationship just by who I am.
My brain tried to mediate allowing Virgo to put schedules on my calendar that Venus chose to ignore. My days became a confused map of backtracking from whims to the task assigned to that hour. At least my body burned a few more calories carrying out the physical wishes of my competing natures. My days filled with activities like taking video of my chickens, returning inside to my office to write, and heading back outside chasing butterfly thoughts. My daily step count was definitely increasing.
I'm new to letting writing be my primary focus. So, I worried what I'd work on this September. I only had a few months of dedicated writing behind me and there was no clear pattern or rhythm yet. The thrill of my nonfiction project mellowed like a comfortable marriage. I force myself to keep at it broken by occasional heart-melting moments that remind me that I love this work. I occasionally look longingly at my new novel and jot down ideas, but nothing of length.
September surprised me and brought something entirely new. That simple connection which started in a back fold of my brain is now a full-on life-size hologram in front of me. It has a life of its own like a virtual reality projected over what my eyes actually see.
When I take a walk in the woods, my sensations are my own. But layered over that is a viewpoint on those feelings which I translate into money tips for my blog readers. And on top of that is another layer where those same feelings create action in my fictional characters.
At those moments, the mosquitos peek over my shoulder as I pull out my phone and write enough down to remember it all later when I'm back at my computer. I swat at a fly too close to my face and finish tapping out letters before plunging my phone in a back pocket and continuing down the trail.
I didn't conceive a new project this month, thank goodness. But I did gain a new perspective. My writing this summer has shifted from fiction to nonfiction to documentary. Now, I feel like I'm just recording how I feel. In my novel I relay those feelings through the lens of fictional people. My money writing reminds me of when I created user manuals as a technical writer many years ago. In a way I'm creating instruction books again except the tool isn't a computer program, it's money.
Documenting my thoughts is much easier than creative writing. It means I no longer have to control either project. In turn, that frees me from being the referee to my opposing natures. I just turn to one when she speaks and take notes. Then, I acknowledge the other and write down what she has to say, even if it's a to-do list.
Writing remains as engaging as it was for me in July and August. I still sit in my chair every day, which was the goal I set in the beginning of July. Yet somehow it's become less scary. I'm still feeling my feels which allows for more authentic writing. However, now there's a protective layer of distance between my writing and me. Me, the person, gets to indulge in the emotional mess of being human. But me, the writer, is merely assembling the notes I take. Virgo loves this part because she creates order with each paragraph flowing into the next.
Venus is happy too. She enjoys the same anticipation as my future readers because I don't know where any of this is going. In September, I finally surrendered the wheel to the Muse and moved into the passenger seat. I let her have the responsibility of getting us to the end of the book. With a contented sigh, I lean back and enjoy the ride, occasionally passing snacks to Venus and Virgo in the back seat. With any luck, I'll relax enough so I can roll down the window and make waves with my arm pushing against the wind. I thought being an intuitive writer would make it harder for me to get the work done. It turns out what I really had to do was get out of my own way.